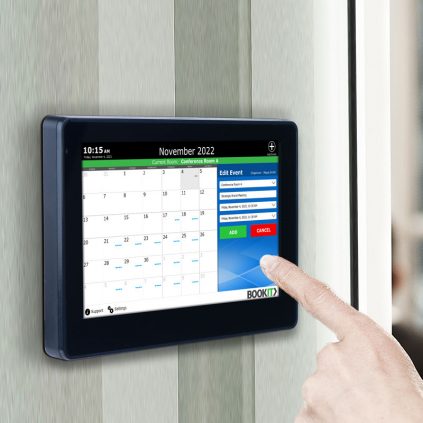 BookIT™ Room Scheduling Solution
BookIT…

Before They Do!
This cost-effective and easy to deploy system is used to schedule any room on the network from a BookIT touch panel located outside a meeting room, your mobile device or computer. The sleek design fits into any décor and the intuitive interface requires little to no user training. BookIT is directly integrated with MS Exchange™, Microsoft 365™ and Google Workspace, so no additional server is needed. BookIT is simple to implement, is cost effective and creates a more efficient meeting space.
All meetings scheduled from a mobile device, computer or at the sign show up on the various devices.  This is true integration with BookIT and your email solution. System Includes 7" POE touch panel device, simple wall mounting system (brackets included), BookIT Room Scheduling Software, power adapter (when you don't want to use POE) and a quick start guide.
BookIT Room Scheduling Solution:

Application Features
Elegance, Style, and Functionality.
Want more information? Contact us today.