BookIT™ Room Scheduling Solution
BookIT…Before They Do!
This cost-effective and easy to deploy system is used to schedule any room on the network from a BookIT touch panel located outside a meeting room, your mobile device or computer. The sleek design fits into any décor and the intuitive interface requires little to no user training. BookIT is directly integrated with MS Exchange™, Office 365™ and G Suite™ (formerly Google Apps for Work), so no additional server is needed. BookIT is simple to implement, is cost effective and creates a more efficient meeting space.
All meetings scheduled from a mobile device, computer or at the sign show up on the various devices.  This is true integration with BookIT and your email solution.
System Includes: 7" POE touch panel device, simple wall mounting system (brackets included), BookIT Room Scheduling Software, power adapter (when you don't want to use POE) and a quick start guide.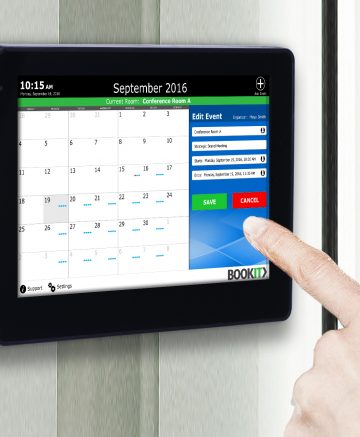 BookIT Room Scheduling Solution: Application Features
Elegance, Style and Functionality.
Meeting Room Calendar
Want to know what is happening in a meeting room? Color-coded room status of red, gold and green lets you immediately know the availability of a room.  Click on the calendar button to see a list of meetings in the room the sign is assigned to. The list is scrollable so you can see out to the end of the booking period allowed in Exchange or Google.
NEW! Digital Signage
BookIT panels can now be used for digital signage via HTML5. Display useful information such as corporate messaging on BookIT panels when meeting rooms are not in use.
Meet Now!
Allows booking of a room without logging in. Events are entered in the room calendar, only so the room is seen as occupied.
Release Meeting
Your meeting's over early? Why not make it available for others by simply releasing the room on the BookIT touch panel display. The end to your meeting will automatically be updated for others to see.
Calendar look-ahead
You can set how far ahead the calendar will look when using the Add dialog or calendar screens. This will result in faster screen loading.
Extend Meeting
Did your meeting run over? You can extend the meeting on the BookIT touch panel display. If there is a conflict with an upcoming meeting, you can easily find an alternative meeting room.
Schedule Meetings
Need to schedule a meeting from the display?  Select "Add", enter your credentials and you can now schedule a meeting in any available room at any available time.
Delete Meeting
Realize that you have a meeting scheduled and you need to cancel it? It's easy to delete it from your phone, your computer or at the BookIT display.  Only the meeting organizer can delete a meeting.
Private Meetings
Mark a meeting as private in Exchange or G Suite and show an alternate room title on the BookIT screen. The organizer name can also be displayed or hidden.
Reporting
A suite of room analytics is now available via the BookIT Device Management portal.
Meeting Check-In
First one to your meeting?  Check-In!  If nobody checks into the room within the configured amount of time, the room will automatically release for others to use. This feature can be enabled, disabled or configured at any time by the administrator.
Support
Have a technical issue with a projector or a display? Just touch "Support" and send a predefined message to summon your internal technical support team to the room.
Alternate Room Finder
If a user goes to a display to book a room and it is occupied, the Alternate Room Finder will enable the user to find either the closest or best-suited room and book it immediately.
GUI Options
You can easily change backgrounds and include your customer's logo on the display.
Want more information? Contact us today!