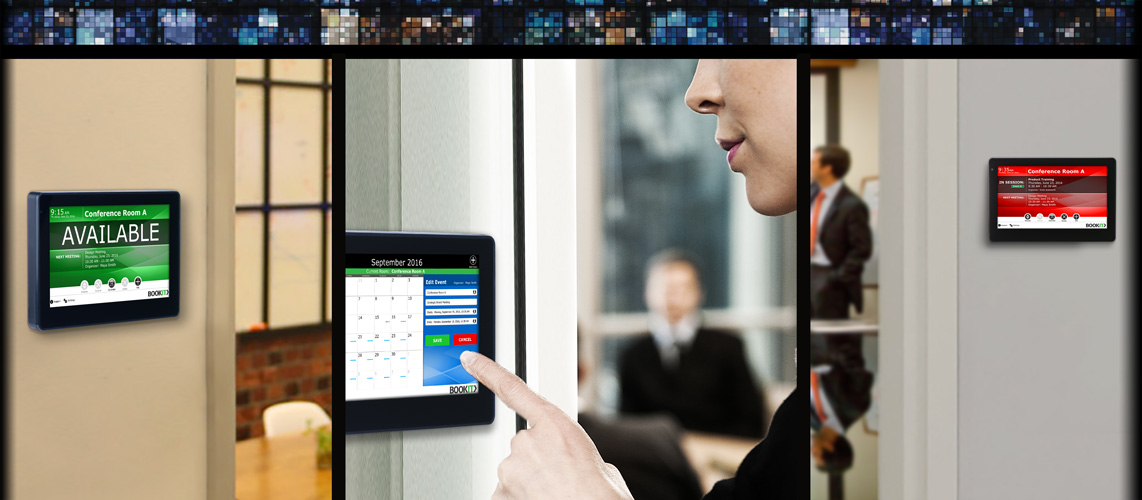 BTX BookIT™ | Room Scheduling Solution
This cost-effective and easy to deploy system is used to schedule any room on the network from a BookIT touch panel located outside a meeting room, your mobile device or computer. The sleek design fits into any décor and the intuitive interface requires little to no user training. BookIT is directly integrated with MS Exchange™, Office 365™ and G Suite™ (formerly Google Apps for Work), so no additional server is needed. BookIT is simple to implement, is cost effective and creates a more efficient meeting space.
All meetings scheduled from a mobile device, computer or at the sign show up on the various devices. This is true integration with BookIT and your email solution.
System Includes: 7" POE touch panel device, simple wall mounting system (brackets included), BookIT Room Scheduling Software, power adapter (when you don't want to use POE) and a quick start guide. It features simple meeting check-in, extension and release of room, alternative room options, one cable installation per display and an intuitive interface which requires little to no training.
Features:
Works with MS Exchange™, Office 365™ and G Suite™ (formerly Google Apps for Work)
At-a-glance room status
Meeting check-in
Meeting extension
Alternative room options
Book a room from the touch panel outside the room, your computer or mobile device
Graphical user interface can change themes and include your logo
One cable installation for each display
Technical Specifications:
Microsoft Exchange works with 2010 or later and can be hosted on premise, hosted site or Office 365
G Suite™ (formerly Google Apps for Work) works with resource calendar, Google account with full access to resource calendar, shared calendar and user permissions for calendar.
BookIT is the perfect solution for your business! Get a referral for a trained integrator near you.
Click Here!